Dr. Kevin E. Stafford was born in Los Angeles, CA to the late Dr. E.E. Stafford and Mrs. Catherine Stafford.  Kevin accepted Jesus as his Lord and Savior in 1978. He was baptized by his father at the Paradise Baptist Church of Los Angeles, in the same year.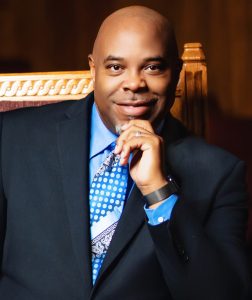 Dr. Stafford accepted his call to preach the Gospel of Jesus in November 1990. He was licensed in December of 1990 and served as Associate Minister at Mt. Tabor Missionary Baptist Church under his father, Dr. E.E. Stafford.
Dr. Stafford received his Bachelor of Arts (B.A.) Degree in Psychology from Chapman University in Orange, CA in 1990. He furthered his academic pursuits and received his Master of Divinity (M.Div.) Degree in Pastoral Care and Counseling, from iconic Interdenominational Theological Center (Morehouse School of Religion) in Atlanta, Georgia in 1994.  He has completed all classroom requirements and has only to complete his Thesis Project, earning him the Doctor of Ministry (D.Min.) Degree in Pastoral Skills for the 21st Century, from the prestigious Gordon-Conwell Theological Seminary in South Hamilton, Massachusetts.  In early 2004, Dr. Stafford was conferred a Doctor of Divinity (D.D.) Degree from the New Freedom Bible College of Belleville, Illinois.
Dr. Stafford served for a season as Youth Pastor at the Orchard Knob Baptist Church of Chattanooga, Tennessee, under Pastor Harold K. Lester. He served as Senior Pastor of the Greater Morning Star Baptist Church of Mt. Clemens, Michigan for just short of 6 years, where he grew the membership from about 240 to over 900 persons. He then returned home to California, serving as the Assistant Pastor of the Mt. Tabor Missionary Baptist Church of Los Angeles, CA until accepting the call to the Senior Pastorate of the Zion Baptist Evangelistic Temple (ZBET) in January of 2003, where the Lord used him to grow the congregation of less than 100 persons in attendance to well over 1000 members, with better than 500 persons in regular attendance between two Sunday services at its peek.
Prior to coming to Calvary Baptist Church, Dr. Stafford served for four years as the Senior Pastor/Teacher of the Fellowship Missionary Baptist Church in Fresno, CA, where despite the COVID-19 crisis, which gripped the world for better than two years, the Lord added more than 100 persons to the ministry.  A thriving Multi-media ministry was established, and an online and social media presence was created, which allowed for a broadened exposure to the ministry, which resulted in members joining from across the country.
In May of 2011, Dr. Stafford co-wrote, recorded and released his first music CD project, called "Get After It", available on iTunes, cdbaby.com, amazon.com and many other music venues.  Later, in December of the same year 2011, the Lord blessed him to write and release his first book, entitled "Driving Out the kINGS", with AuthorHouse Publishing (ISBN 978-1-4634-1058-2). In 2022, he was a contributing author to the devotional book entitled, "Fix My Prayer Life".  In 2023, he was a contributing author to the devotional book entitled, "Happy New You", both available on Amazon.
Dr. Kevin E. Stafford is happily married to the lovely Lady Margina E. Stafford.  Together, they are the proud parents of a blended family of seven beautiful children.